It's been a while since the team has posted a blog so we've decided to begin a new series on the NovelEco Future Novel Ecologies workshops. So what are Future Novel Ecologies workshops? They are global research workshops being conducted by Dr Mel Pineda Pinto and PhD student Mairéad O'Donnell to gather social and ecological data on informal urban wild spaces (IUWS). The workshops aim to explore the social-ecological traits and capabilities of urban ecosystems that have emerged after they have experienced human abandonment or neglect. They tend to be unmanaged or less managed spaces which allows for new assemblages of species to form and new types of habitats to be created. These novel ecologies hold unique characteristics. They are resilient, can survive in harsh urban environments, they provide ecosystem functions and services, and recent research has also demonstrated their capacity to sustain native species. As such, they hold great potential for imagining how and which ecologies will thrive in the future. They can serve as templates for designing resilient and multispecies futures. These workshops will tap into some of these ideas and explore how we can learn from wild spaces and imagine futures in which multispecies flourish. This data is gathered through a series of activities beginning with a transect walk through an IUWS. During the walk, participants are asked to observe their surroundings and take note of their experiences while within an IUWS. This is then followed by a group story-telling exercise where participants develop future imaginaries of what the IUWS will become at a particular moment in the future, considering the history, culture and values placed upon the site and the species which inhabit it. To finish, a multi-species roleplaying game has been developed to allow participants to assume the role of various species (both human and non-human) and identify specific actions that can be taken to get to a future scenario where all species are flourishing. The workshops have been designed to not only gather important social-ecological data on IUWS but also to engage stakeholders with their local spaces and, above all, to relax and have fun whilst learning from one another.
To date, five workshops have been conducted in a number of towns and cities including Dublin and New York City. Over the coming months, Mel and Mairéad plan to publish blog posts about the workshops, discussing what went well, what didn't, what information arose during the workshops and reflect back on their experiences of conducting the Future Novel Ecologies workshops. In preparation for the research, a pilot workshop was conducted with the entire NovelEco team and in addition to visiting academics during the NovelEco Reflexive Monitoring Workshop (RMW) in April 2023. The RMW is a monitoring and evaluation method which the NovelEco team uses every six months to reflect back on the work conducted to date and to discuss the work for the coming six months. Academics from various universities are typically invited so the team can receive external perspectives and feedback on their work. For this RMW, we had the pleasure of welcoming Prof. Stephen Murphy from University of Waterloo, Prof. Liam Heneghan from DePaul University, and Dr. Brenda Zoderer from BOKU University Vienna. These visiting academics provided a wealth of knowledge for the NovelEco team as well as taking time for building friendships and connections which was a hugely valuable experience.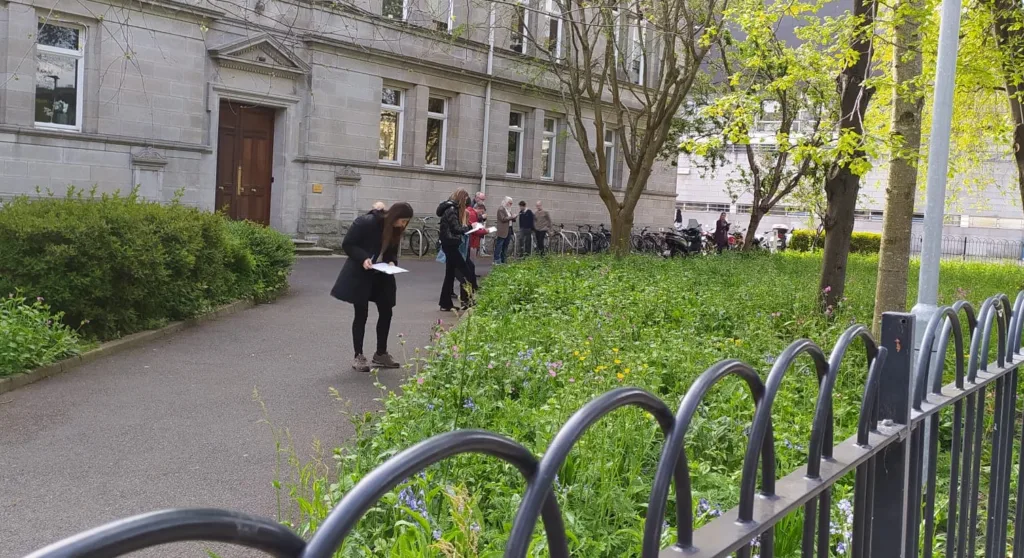 Fig. 1: Workshop participants getting a feel for nature during their walk.
The Future Novel Ecologies pilot workshop was held on campus in Trinity College Dublin to finish off our intense three day RMW. This was the first time trying out each of the activities of the workshop so Mel and Mairéad were both nervous and excited to see how the activities would be received after months of preparation. Luckily, the workshop went better than expected, making for an extremely creative and convivial experience for all who attended. Armed with clipboards and notepads, the participants took a transect walk among a very small patch of wild area on campus, noting the nostalgic feeling of being a child back in school heading out into nature. Once we got out, the participants truly immersed themselves in the surroundings, taking in the sounds, smells and feels of the space. One participant had a memorable encounter with the Batesian mimicry of a hoverfly. Resembling a bee, the participant initially got a fright but then learned how this is a defensive mechanism of a harmless species just trying to survive in the wild. Participants also allowed their creative sides to emerge by taking photos of pollinators and drawing various plant species within the field. These experiences made for fascinating discussions when we arrived back for part two of the workshop.
Once back in the confines of the classroom, the group discussed what they experienced on the transect walk. We had participants who had the ability to identify a wealth of species during the transect walk and discuss with us their role within the ecosystem, the benefits they provide and how the various components of the space depend on and interact with each other. This provided a rich discussion combined with the participants sharing the sensorial elements of the space, particularly commenting on the sounds they experienced. One participant reflected on the absence of urban noise replaced with the sounds of the birds and the gentle murmur of students at work, an auditory lull which they named 'avoesis'. These reflections led nicely into our story-telling exercise where participants were split into two groups to develop future scenarios and create a narrative for how they imagine that space to be at a particular moment in the future.
Our participants really let loose in this portion of the workshop, releasing their creativity to develop two incredible stories, one of which involved a post-apocalyptic world where a failing chemistry student inhabited the wilderness of the campus. This story may or may not have included burning the Book of Kells to keep warm but we won't dwell on that. The second story developed a theme, inspired by the theme song of the movie Frozen, which they named "let it go, let it go, let it go". Through both stories, the participants envisioned a much more wild campus, where weeds grew out of the nooks and crannies. However, they also were considering the human needs, where forms of gentle management are also required and considering how the wilderness and management may be integrated with each other. In a realistic sense, this emerged as looking at the entire plans of campus and identifying additional areas and boundaries for wilderness, creating wild trails throughout the campus. After sharing our stories, we then moved onto the unusual and often humorous segment of the workshop (and the one we were most excited to try out), the multi-species roleplaying game. Each of the participants were assigned a role of a species they identified earlier in the workshop. These roles included a squirrel, failing chemistry student, dandelion, earthworm, hoverfly, chestnut tree, groundskeeper, and a wood pigeon. As in most games, players had to abide by several rules: Most importantly they had to identify three actions that would lead to their imagined future scenario, while ensuring that as many species as possible benefited from these three actions. The roleplaying game involves each of the species introducing themselves, stating their role within the ecosystem, and discussing their interactions with other species within the group. The activity encouraged participants to step out of their comfort zone and typical anthropocentric viewpoint so as to consider each other's dependencies. That being said, it was interesting within the roles, how the groundskeeper role connected each of the species and had a unique capability of helping all the species flourish.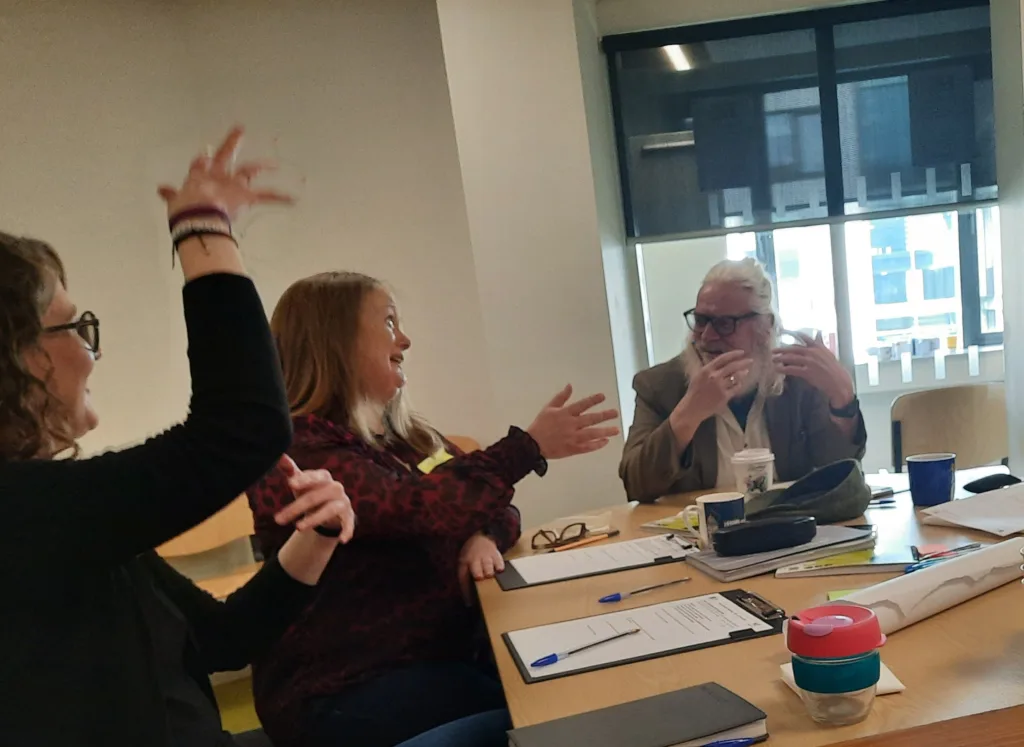 Fig. 2: Liam, Clair and Fiona defending their positions during the roleplay.
Through the various discussions such as this during the workshop, thoughts emerged on not only the position of power and authority we as humans hold but also our responsibilities to nature and the other species which occupy these spaces. We not only depend on nature for our own survival, we are an intrinsic element of nature. Therefore, there are certain expectations which should be upheld as humans to ensure the care and nurturing of other species. What exactly are these expectations and responsibilities and how do we go about creating societies which uphold these values? These are the fascinating questions emerging from Future Novel Ecologies workshops which will hopefully inform and direct future NovelEco research. If you wish to share your thoughts on any of the aspects discussed, please feel free to reach out to our team. Furthermore, if you would like to get involved by becoming a citizen scientist or holding a Future Novel Ecologies workshop in your locality, we would love to hear from you.