By Natalia Rodriguez Castañeda,
Social, Environmental and Health Anthropologist,
PhD Candidate in the NovelEco ERC Team, Trinity College Dublin.
"This is an oasis in the city. We need to preserve these spaces where you can feel a different rhythm of life"
Participant workshop, therapeutic herbarium, Cerros de Bogotá. Febrero 2023
In February 2023, the research group NovelEco conducted the first Therapeutic landscape workshop in the Nature Reserve El Umbral Cultural Horizontes in Bogotá, Colombia. This nature reserve with open access to the public and located in the north of the city represents, as one of the participants said, an "oasis in the city". But what does an "oasis" in this urban context mean, and in which ways is this expression related to our workshop on therapeutic landscapes in Bogotá?
Citizens who live in Bogotá or have had the opportunity to visit it may feel that in this city, as in most of the urban areas in Colombia, Latin America, and even the world, daily life feels rushed, noisy, polluted and busy. There are few spaces or moments where we can stop to contemplate nature and interact with its rich biodiversity. This is a contradiction in the capital city of one of the most biodiverse countries in the world, where its urban design, planning and way of experiencing the city should be more focus-oriented towards integrating a biodiversity-friendly approach that promotes nature connectedness and ecological knowledge.
However, in Bogotá, as in other cities in Latin America, nature connectedness represents a challenge that involves the need to consider aspects such as accessibility, safety, and socioeconomic inequality to guarantee contact with urban natural and semi-natural areas within the urban context (Fisher et al., 2021; Sainz-Santamaria & Martinez-Cruz, 2022). In the case of Bogotá, a very dense metropolitan area that hosts 8.000.000 inhabitants, the interaction with nature and natural spaces may be more limited to small and squared parks with well-managed and designed lawns and with urban trees planted across parks and streets. These urban green spaces are primarily located in local neighbourhoods where people may use them for recreational, relaxing or walking purposes. Also, urban green spaces within the city or in the peri-urban areas with less human intervention, such as wetlands, nature reserves and peri-urban mountains, are part of the green panorama of the city.
El Umbral Cultural Horizontes, a three-hectare nature reserve, represents an opportunity for people in Bogotá to spend time and learn about nature and biodiversity in the city. During the last decades, in this reserve, the Fundación Cerros de Bogotá has been promoting activities for participatory rewilding, acknowledging the importance of regreening the mountain to host animal and plant species, and supporting ecological connectivity with other ecosystems such asel Páramo de Las Moyas. This natural spot represents today the habitat of hundreds of plant species, such as arrayán (Myrcianthes leucoxyla), uva camarona (Macleania rupestris) or the Tominejero (Palicourea lineariflora). Also, this mountainous green space is the habitat of around 30 species of mammals, 140 bird species, six reptiles, eight amphibians, and two native fish species. On your visit you can come across with animal species such as Colibrí (Colibri coruscans), chucha (Didelphis pernigra), or the lagartija of Bogotá (Anadia bogotensis) (Info taken from: Fundación Cerros de Bogotá, August 2023).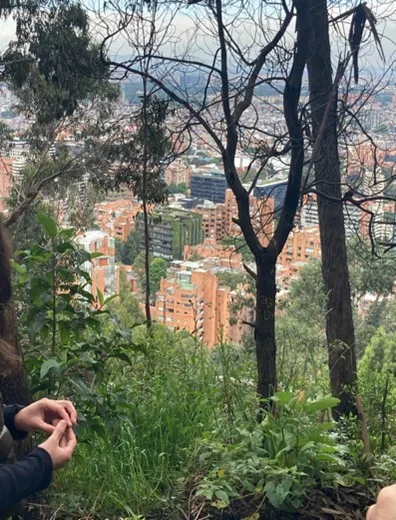 In this stunning nature reserve, El Umbral Cultural Horizontes, we had the opportunity to engage with the community to contemplate and immerse ourselves in Los Cerros or the mountain and to learn about their vast, rich, wild and magnificent biodiversity through our therapeutic landscape workshop, conducted by the research group NovelEco, from the School of Natural Sciences, Trinity College Dublin, with the support of the landscape architect Diana Wiesner and the team and volunteers from the Fundación Cerros de Bogotá.
The therapeutic landscape workshop concedes the social, ecological and health value of urban natural settings to promote citizens' mental health and well-being through the immersion and connection with the landscape and its biodiversity. It promotes community engagement and participatory approaches to experience and feel the natural landscape by painting, drawing, walking, observing and collecting plants to create a community herbarium that enhances nature connectedness, ecological knowledge and citizens' mental health restoration and well-being.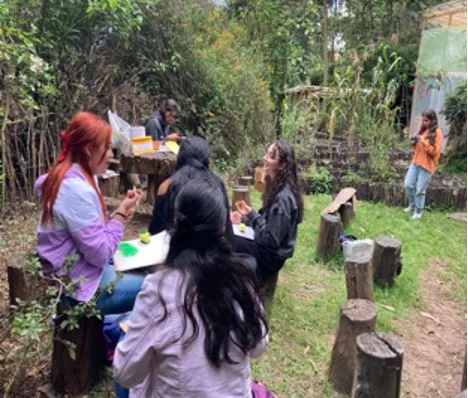 The idea of therapeutic, contemplative, or restorative landscape comes from the medical geography and environmental psychology to acknowledge that natural environments have the effect of providing mental health restoration through promoting contact with nature (Cheesbrough et al., 2019). This is related to the Attention Restoration Theory (ART) (Kaplan, 1995; Kaplan & Kaplan, 2003), which states that natural environments have qualities such as the feeling of being away (providing an escape from daily activities), extent (feeling immersed in the environment), soft fascination, and compatibility (the desire to be exposed to the natural environment) that contribute in the mental health and well-being of the individuals.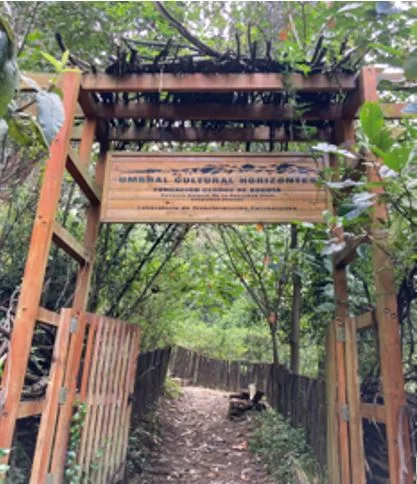 When the participant reflected on the nature reserve El Umbral Cultural Horizontes as an oasis in the city, it attributed features of the therapeutic landscape as a place that evokes feelings of relaxation, happiness and a sense of place while reducing stress and anxiety. This therapeutic or oasis experience begins at this nature reserve when you cross the wooden door of the entrance. Here, you can feel your body more relaxed, and time passes with the birds singing and the wind blowing through trees' branches. Suddenly, the polluted air feels clear with the smell of eucalypts and other native and non-native plant species. With many smiles from people, visitors, hikers and volunteers interested in learning more about this space, you feel welcome in a calm, pleasant and safe place.
After this unique and insightful experience at the nature reserve El Umbral Cultural Horizontes, we consider that these green spaces should need extra protection in the city. Therefore, urban planners and local governments should prioritise them as they represent an opportunity to discuss and include in political agendas strategies for urban health and biodiversity conservation in urban settings. These oasis or therapeutic landscapes that enhance our nature connectedness need further recognition of their importance and contribution to public mental and physical health and their support for urban biodiversity. This is why we invite the communities to consider what other therapeutic landscapes or oasis in the city they know and embrace their value as natural settings for the promotion of citizens' health, biological diversity support and urban sustainability for everyone.
Thanks to all who participated in the therapeutic landscape workshop! Your drawings, paintings and reflections are contributing to our research in Dublin, Ireland!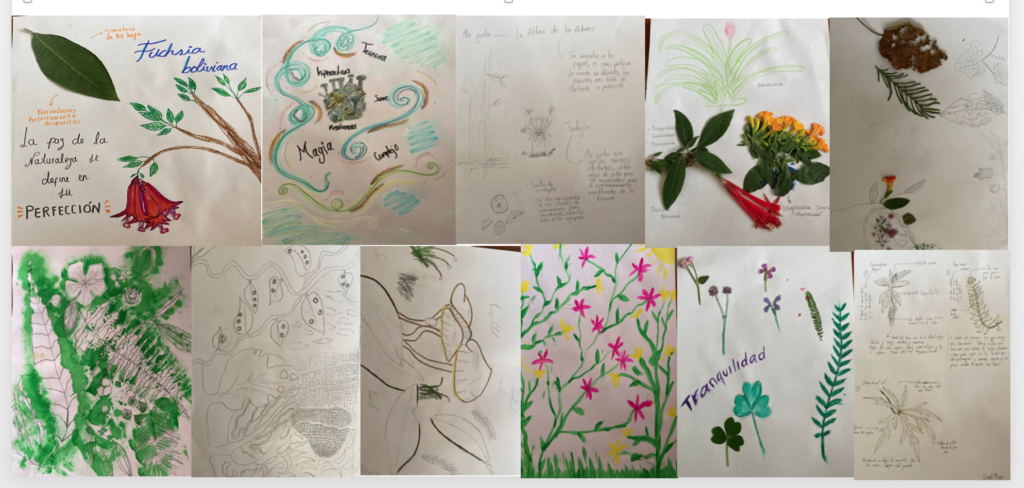 We recommend you to visit the nature reserve El Umbral Cultural Horizontes. Every Friday morning, the Fundación Cerros de Bogotá organises talks on urban ecology. This is the best way to learn about biodiversity, socio-ecological projects and the environmental history of the mountains in Bogotá.
More information about the nature reserve El Umbral Cultural Horizontes, visit: https://cerrosdebogota.org/index.php/reserva-horizontes/
More information about NovelEco project: https://noveleco.eu/
More information about Fundación Cerros de Bogotá, visit: https://www.youtube.com/watch?v=ieg6q1t6p0I and https://cerrosdebogota.org/
References:
Cerros de Bogotá. El Umbral Cultural Horizontes. Consulted on August 2023. In: https://cerrosdebogota.org/
Cheesbrough, A. E., Garvin, T., & Nykiforuk, C. I. J. (2019). Everyday wild: Urban natural areas, health, and well-being. Health and Place, 56, 43–52. https://doi.org/10.1016/j.healthplace.2019.01.005
Fisher, J., Emmerson Bicknell, J., Nesbitt Irvine, K., Fernandes, D., Mistry, J., & Georgina Davies, Z. (2021). Exploring how urban nature is associated with human wellbeing in a neotropical city. Landscape and Urban Planning, 212. https://doi.org/10.1016/j.landurbplan.2021.104119
Kaplan, S. (1995). THE RESTORATIVE BENEFITS OF NATURE: TOWARD AN INTEGRATIVE FRAMEWORK. In Journal o/Enuinm,mfol Ps>clmlog~ (Vol. 16).
Kaplan, S., & Kaplan, R. (2003). Health, Supportive Environments, and the Reasonable Person Model. In American Journal of Public Health (Vol. 93, Issue 9).
Sainz-Santamaria, J., & Martinez-Cruz, A. L. (2022). Adaptive governance of urban green spaces across Latin America – Insights amid COVID-19. Urban Forestry and Urban Greening, 74. https://doi.org/10.1016/j.ufug.2022.127629